Taxes Plus, based in Keokuk, IA,  can assist with your personal and business tax matters, in a responsive and accurate manner.
Taxes Plus offers comprehensive bookkeeping and accounting services to guarantee your business operates at maximum potential.
Taxes Plus can help you pay your employees quickly and easily with our Payroll Services. Our plans are designed to swiftly create paychecks and calculate payroll taxes.
Committed to Helping You
Taxes Plus reputation lies in the experience and expertise we provide on a daily basis.
PROFESSIONAL SERVICE
Taxes Plus can offer a full range of accounting services, while giving you the individual attention that you need.
SERVING YOUR BUSINESS
Taxes Plus provides support in all areas of business consulting. Let our team guide you with a financial strategy that leads to business growth and success.
YEARS OF EXPERIENCE
Taxes Plus has volumes of experience working through IRS audit strategies and financial issues. We guarantee that your business is in good hands at all times.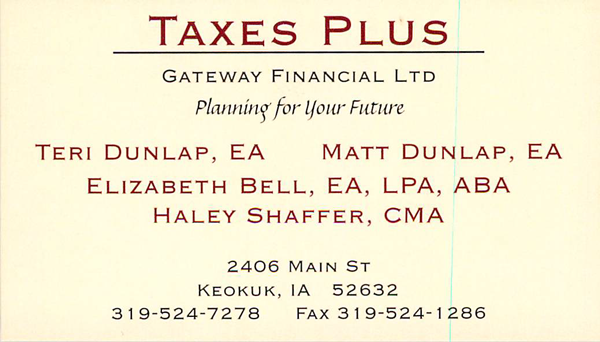 how to find us
Taxes Plus
2406 Main Street
Keokuk, IA 52632